Gondar, Ethiopie
Twinning project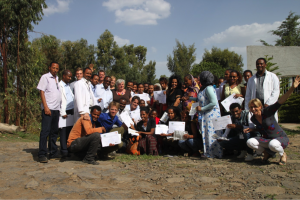 5 YEARS AGREEMENT GONDAR HOSPITAL, ETHIOPIA
In June 2015, a group of six Dutch gynaecologist and residents, members of the Working Party of International Safe Motherhood and Reproductive Health (WP ISM&RH), travelled to Gondar, Ethiopia. Life Saving Skills Training was given in cooperation with the Liverpool School of Tropical Medicine.
This pilot training was organised on request of the receiving Gondar Hospital and World Vision Ethiopia. We had a very intense and successful week with enthusiastic trainees and trainers. The training resulted in a Memorandum of Understanding of the four parties involved, with an agreement for the coming 5 years.
Follow-up of this training and further plans for training as well as studies are made right now. A ShareNet Grant is issued to help us succeed. This implies the presentations of results of our trainings and studies.
Update Collaboration Gondar 2020
Evaluation report 5 years collaboration Gondar
Report Fetal Maternal Medicine subspecialist training, collaboration ISUOG
Report Sept 2017
Myrrith, Heleen, Jelle
After one and a half year of silence, a visit to Gondar University Hospital has been undertaken again. A ToT was organised, The LSS training was given with the expected quality assurance, and some operations and training were given in the gynaecological oncology department. It was a very fruitful visit, with many ideas, but with points of discussion and improvement as well. These points of discussion can be found in the different sections of this report.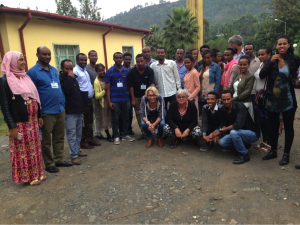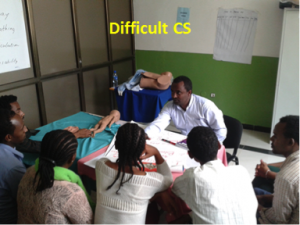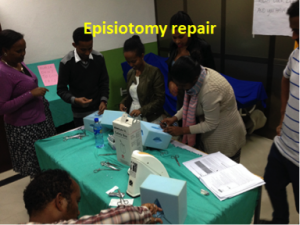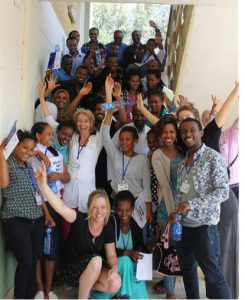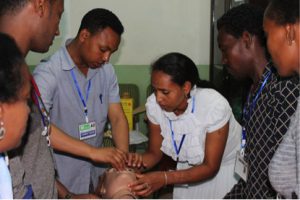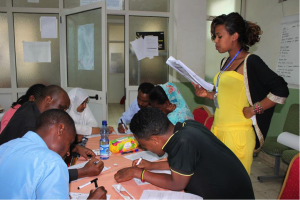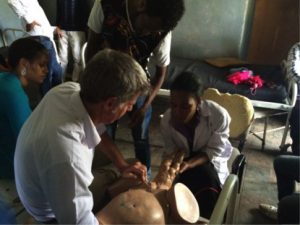 About 3 months after the signing of the Memorandum of Understanding, the start of the cooperation programme and the initial LSS-EONC training a first follow up visit was conducted. The programme of the visit was well prepared by Dr. Birhanu and ran smoothly. World Vision took care of transport.
Four health centres were visited and a facilitator training (ToT) was conducted for 8 participants. Initial enthusiasm which was experienced by all involved in June, could still be felt.
Continuous efforts will be needed to keep communication lines open; appointment of Dr. Birhanu as a payed project coordinator will definitely help.
Focus should be on the roll out of the LSS-EONC training and several research projects to be further developed in the next months.
A possible stay of professor Vierhout for 3 months, starting in February 2016, will give a booster to the Urogynaecology subspecialty training. Contact with French and German urogynaecologists should be initiated by Dr. Genet, in order to coordinate activities.
Jelle, Marcus, Thomas, Myrrith, Mimosa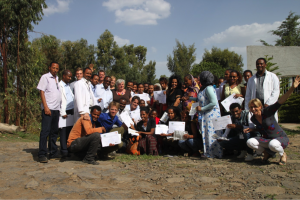 We are very happy and proud that our visit has resulted in a Memorandum of Understanding of 5 years with 4 parties: Gondar University, World Vision, Liverpool School of Tropical Medicine and the Working Party of International Safe Motherhood and Reproductive Health.
During the week of trainings, visits and discussions in June 2015, we have seen that the (medical) staff in and around Gondar is very strong in their enthusiasm and motivated to improve quality of care to women. This gave a huge boost to our motivation, which is still running through our veins.
At the moment we are all working hard to make the future wishes come true: improvement of maternal health by building up a good training system with the gynaecologists of Gondar Hospital, starting up research to measure the expected improvement and to give people the possibility to learn to perform research and write articles as well as working on subspecialty training for better care for women. Many ideas have raised about ICU improvement in combination with research, Health Center upgrading and making a good fellowship. Together we must be able to reach our goals.
Since we have managed to receive a grant from ShareNet (thanks to Marcus with his never ending enthusiasm), we have financial support for the coming year. Together with all parties we need to do our upper best to show ShareNet that the Grant is worth to be continued the coming years. This will help us to give continuous support in Gondar Hospital.