[av_one_full first]
[av_gallery ids='1075,1072,1073,1028′ style='thumbnails' preview_size='portfolio' crop_big_preview_thumbnail='avia-gallery-big-crop-thumb' thumb_size='portfolio' columns='5′ imagelink='lightbox' lazyload='avia_lazyload']
[av_heading tag='h3′ padding='10' heading='Maternal Mortality' color=" style=" custom_font=" size=" subheading_active=" subheading_size='15' custom_class="][/av_heading]
[av_textblock size=" font_color=" color="]

www.worldmapper.org
---
[/av_textblock]
[/av_one_full]
[av_one_half first]
[av_heading tag='h3′ padding='10' heading='Key Facts' color=" style=" custom_font=" size=" subheading_active=" subheading_size='15' custom_class="][/av_heading]
[av_textblock size=" font_color=" color="]
Every day, approximately 800 women die from preventable causes related to pregnancy and childbirth.
99% of all maternal deaths occur in developing countries.
Maternal mortality is higher in women living in rural areas and among poorer communities.
Young adolescents face a higher risk of complications and death as a result of pregnancy than older women.
Skilled care before, during and after childbirth can save the lives of women and newborn babies.
Between 1990 and 2013, maternal mortality worldwide dropped by almost 50%.
[/av_textblock]
[/av_one_half]
[av_one_half min_height=" vertical_alignment=" space=" custom_margin=" margin='0px' padding='0px' border=" border_color=" radius='0px' background_color=" src=" background_position='top left' background_repeat='no-repeat' animation="]
[av_heading heading='Causes Maternal mortality' tag='h3′ style=" size=" subheading_active=" subheading_size='15' padding='10' color=" custom_font="][/av_heading]
[av_textblock size=" font_color=" color="]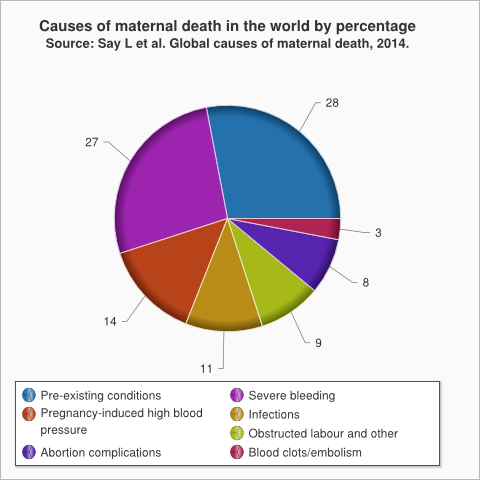 [/av_textblock]
[/av_one_half]